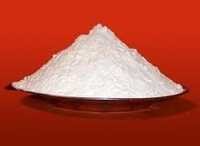 Zinc Iodide
Product Description
Zinc Iodide is a chemical compound of zinc and iodine, ZnI2. This substance readily absorbs water from the atmosphere and is prepared by direct reaction of zinc and iodine in refluxing ether. The provided chemical is formulated under the stern guidance of our ingenious professionals using quality-tested compounds and sophisticated methodology. In addition to this, we offer this Zinc Iodide to our clients as per their requirements in different packaging options at industrial-leading prices.

Applications:
1) Zinc iodide is often used as an x-ray opaque penetrant in industrial radiography to improve the contrast between the damage and intact composite.
2) In conjunction with osmium tetroxide, Zinc iodide is used as a stain in electron microscopy.
Specifications:
Product Name
: Zinc Iodide
Molecular Formula
: ZnI
2
CAS No
: 10139-47-6
Molecular Weight
: 319.22 g/mol
Density
: 4.74 g/cm
3
Melting Point
: 446°C
Appearance
: White solid
Solubility in water
: 450 g/100mL (20 °C)
Other cations
: Cadmium iodide; Mercury(I) iodide
Other anions
: Zinc fluoride; Zinc bromide; Zinc chloride
Magnetic susceptibility (χ)
: −98.0·10
−6
cm
3
/mol