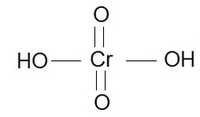 Zinc Chromate
Product Description
Backed with years of market expertise and proficiency in this domain, we are betrothed to offer Zinc Chromate (ZnCrO4). It is an inorganic chemical compound containing the chromate anion, appearing as odorless yellow powder or yellow-green crystals, but, when used for coatings, pigments are often added. It emits toxic chromium fumes upon heating. It is highly corrosive and is a strong oxidizing agent. This substance is used as a metal conditioner, corrosion inhibitor and is used in paints, varnishes and oil colors.

Affects of Zinc Chromate:
Zinc chromate primarily affects the lungs that causes breathing problem, pneumonia, bronchitis and asthma but can also affect the gastrointestinal tract, kidneys, liver and immune system. This substance is a known human carcinogen and is associated with an increased risk of developing lung cancer.

Specifications:
Product Name
: Zinc Chromate
Molecular Formula
: ZnCrO
4
Molar Mass
: 181.403 g/mol
CAS No
: 13530-65-9
Molecular Weight
: 181.403 g/mol
Density
: 3.43 g/cm
3
Melting Point
: 316°C
Appearance
: Powder
Solubility in water
: Insoluble
Other cations
: Sodium chromate, Potassium chromate
Other anions
: Zinc dichromate