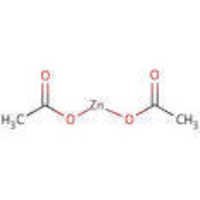 Zinc Acetate
Product Description
Our enterprise is reckoned among the leading manufacturers, exporters and suppliers due to our offered Zinc Acetate chemical. The offered chemical is processed with utmost precision using premium quality compounds and progressive techniques in tandem with international quality standards.

Our provided chemical is widely used as a supplement drug for treating the diseases cause by deficiency of zinc. It has been developed for the treatment of Wilson's disease, an inherited disease of copper accumulation and copper toxicity in liver and brain.

Industrial applications of zinc acetate includes manufacturing other zinc salts, wood preservation, manufacture of ethyl acetate, polymers, as a dye mordant, and analytical reagent. It is used in commercial nuclear power plants as a plating inhibitor on primary water piping.

In addition to these, our clients can avail this product from us in different packaging options at affordable prices.
Specifications:

Molecular Formula: C4H6O4Zn
Molar mass: 183.48 g/mol
Density: 1.74 g/cm³
Appearance: White solid (all forms)
Boiling point: Decomposes
Melting point: Decomposes at 237 °C
Solubility: 1.5 g/100 mL (methanol)
Solubility in water: 43 g/100 mL (20 °C, dihydrate)