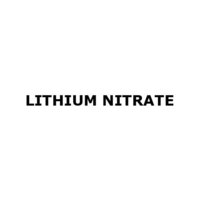 Lithium Nitrate
Product Description
Lithium Nitrate stands as a white to light yellow crystallized solid, which is denser than water. Capable to be made via the reaction between lithium hydroxide & lithium carbonate or with nitric acid, the chemical compound has wide applications listed below:

1) Useful as liquid ammonia stabilizer in the oxidants of pyrotechnic making, refrigeration equipment, glass etchant, rocket propellant, antistatic agents, constitution of molten salt etc.
2) Applicable as a cooling & dissolving agent, catalyst or activator for the paint, analytical reagent, heat exchange carrier etc.
3) Used as a raw material of nickel salt as well as the mordant of reducing dye.
4) Useful for the production of phosphor, nickel batteries, ceramics, other lithium salt and metal coloring.
5) Applicable for the organic synthesis, electroplating industry and the production of hardening oil.
6) Lithium Nitrate has been projected as a medium that can store the heat collected from the sun for the purpose of cooking.
7) Stands as a good oxidizing agent in the production of red-colored flares and fireworks.
Specifications:
Product
: Lithium Nitrate
Formula
: LiNO
3
Molar Mass
: 68.946 g/mol
Density
: 2.38 g/cm
3
Boiling Point
: 600 °C
CAS. No
: 7790-69-4
Melting Point
: 264 °C
Appearance
: White to light yellow solid