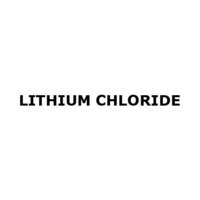 Lithium Chloride
Product Description
Offered Lithium Chloride is a stable chemical compound, which is incompatible with strong acids, bromine trichloride and strong oxidizing agents, bromine trifluoride. This is an extremely hygroscopic compound that gives protection from moisture. Made via treatment of lithium carbonate with hydrochloric acid, it can also be generated via an exothermic reaction of lithium metal.

Applications:
1) Mainly utilized for the making of lithium metal by electrolysis .
2) Utilized as a brazing chemical for aluminium in automobile parts.
3) Applicative as a desiccant for drying air streams.
4) In more specific applications, lithium chloride finds some utlilation in organic synthesis by working as an additive in the Stille reaction.
5) In biochemical applications, this compound is employed to precipitate RNA from cellular extracts.
6) Utilized as a flame colorant so as to make dark red flames.
7) Employed as a relative humidity stock in the calibration of hygrometers.
Specifications:
Product
: Lithium Chloride
Molar Mass
: 42.394 g/mol
Formula
: LiCl
Melting Point
: 605-614 °C
Boiling Point
: 1,382 °C
Density
: 2.068 g/cm
3
Industry
: Air Conditioning, Pharmaceutaicals, Humidifiers, Mineral Water, Soft Drinks, Engineering, Salt Bath, Flux Batteries, Dyes
Class
: Catalyst, Industrial Products, Pharmaceuticals, Batteries
Function
: Catalyst, Additive, Fluxing, still reaction, Organic synthesis, Soldering
Grade
: Technical, Chemically Pure, Crystaline, Powder, Pharmaceuticals, Anhydrous
Appearance
: White solid; hygroscopic, sharp