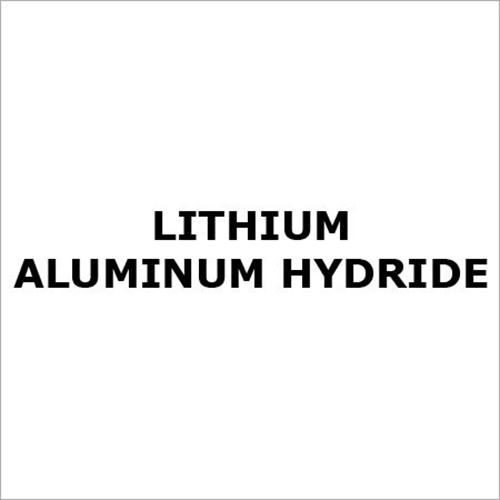 Product Description
Backed with years of knowledge of this relevant domain, our firm has become the foremost manufacturer, exporter and supplier by offering Lithium Aluminum Hydride, CAS No‎: ‎16853-85-3, LiAlH4. It is used in various inorganic chemical reactions as a reducing agent, resulted in formation of new compound. This chemical compound is processed by our professionals using quality-tested basic compounds and modern techniques. Apart from this, we offer this product to the clients in different packaging options at competitive prices.

Physical Properties:
Lithium Aluminum Hydride (LAH) is as an odorless, white, greyish or crystalline solid, accessible with a density of 0.97 g/mL. This odorless solid form can react violently with acids, water, and oxygenated compounds and can ignite in wet air or due to the friction or static sparks. On account of its specific physical property, this chemical compound is significantly utilized as an important reducing agent.

Applications:
1) Applicable as a reducing agent in several synthetic organic chemistry reactions, such as the conversion of acyl chlorides, aldehydes, esters, carboxylic acids and ketones into their similar intoxicants.
2) Involved in the transition of nitro, nitrile, imine, amide, oxime and azide compounds, this can assist in preparing sodium hydride.
3) Lithium Aluminum Hydride works as a powerful hydrogen storage medium that could be utilized for future fuel cell-powered vehicles.
4) Primarily utilized in the formulation of other tetrahydridoaluminumates such as magnesium alanate., sodium aluminum hydride and potassium aluminum hydride.
5) Used to formulate thermoplastic polyester polyamides from lithium-polymer batteries as well as oleic acid.
6) Applicable for organic synthesis, this reagent is utilized in the preparation of an assortment of organic chemicals, pharmaceuticals, and metal hydrides.
7) Useful as a polymerization catalyst as well as a propellant.
Specifications:
Formula
: LiAlH
4
Molar Mass
: 37.95 g/mol
Melting Point
: 150 °C
Density
: 917 kg/m
3
CAS No
‎ : ‎16853-85-3