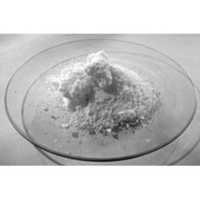 Cadmium Bromide Anhydrous
Product Description
From the past decade, we have renowned in this domain as the leading entity betrothed in offering Cadmium Bromide Anhydrous. The provided powder finds wide applications as pH buffer and hardness booster in water, additive in plastics and fire extinguishers and as a thinner in fabrics. The offered chemical compound is processed by our adroit processionals using unmatched quality chemicals and avant-garde techniques. To meet the diversified demands of clients, we are offering this product in numerous packaging options at economical prices.

Uses and Proprieties:
Cadmium Bromide Anhydrous is utilized in process engraving, photography and lithography. Offered in powder form, this is a odorless compound with freely solubility in water. It is slightly soluble in ether & acetone and has a white to pale yellow appearance. This is a reagent, also known as Cadmium dibromide and is used for the production of photographic film. Also applicable for lithography, the reagent grade shown that this chemical is the highest quality chemical commercialized illustriously. Appreciated for the quality and purity Cadmium Bromide Anhydrous has safe and effective utilization from labs to industries.

Specifications:
Product
: Cadmium Bromide Anhydrous
CAS No
: 7789-42-6
Formula
: CdBr
2
Molecular Weight
: 272.22 g/mol
Density
: 5.192 g/cm
3
Melting Point
: 568 °C
Appearance
: Powder