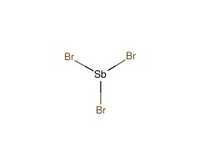 Antimony Tribromide
Product Description
We offer Antimony Tribromide (SbBr3), which is a chemical compound incorporating antimony in its +3 oxidation form. It can be made via the reaction of antimony with elementary bromine, or via the reaction between hydrobromic acid and antimony trioxide. As an alternative, it can be constituted via the action of bromine on a concoction of antimony trioxide and antimony sulfide at 250 °C. Antimony Tribromide can be added to polyethylene as a fire retardant. It is also utilized in the production of various other antimony compounds including dyeing, chemical analysis and as a mordant.


Chemical Properties:
It has double crystalline forms as well as orthorhombic symmetries.
Specifications:
Formula
: SbBr
3
Molar Mass
: 361.472 g/mol
Density
: 4.35 g/cm³
Melting Point
: 96.6 °C
Boiling Point
: 280 °C
CAS No
: 7789-61-9
Form
: Yellow Crystalline Powder